Wedding Car Hire Rotherham
Luxury & Classic wedding cars in Rotheram

Regency Wedding Car Hire Rotherham, are the leading wedding car supplier in Rotherham.
We have been providing wedding car hire in Rotherham and surrounding areas for over 21 years now. We can be seen frequently at the Magna Science and adventure centre wedding fayre hosted by Francesca Cliffe Events, or to view our wedding cars we are just off junction 30 off the M1, and if you decide to book later just £50 deposit per wedding car required.

We often go to the Clifton Park Museum, Carlton Park Hotel, Helleby Hall, Tankersley Manor, Wentworth Woodhouse, Holliday Inn, Fitzwilliam Arms Hotel, Wortley Hall, Rockingham Arms and the lovely Holy Trinity Church Wentworth, and many other venues. 
See our Classic & Vintage Wedding Cars in the Rotheram Area.
Click below for more images of our Wedding Car hire range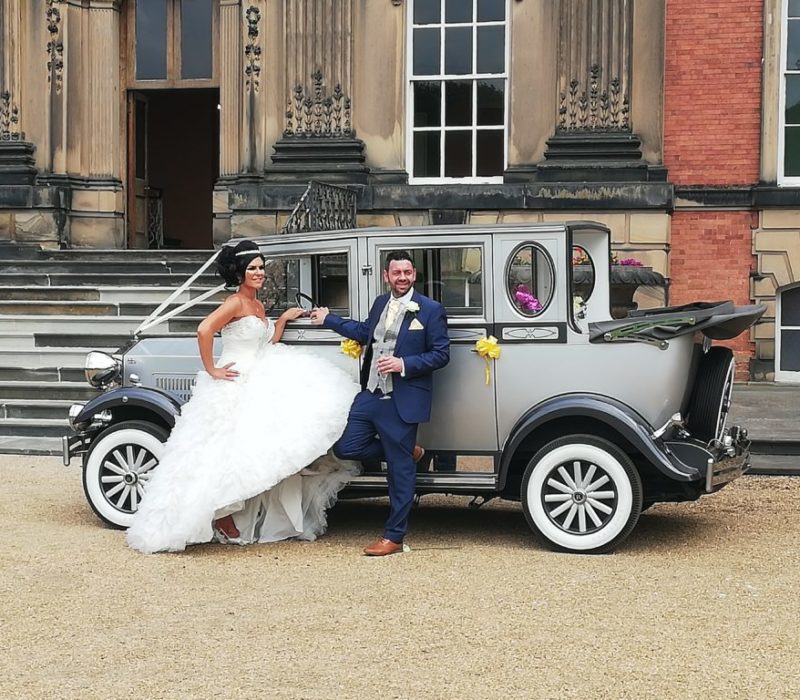 Regency wedding car hire Rotherham Ceremony & Reception
Luxury Wedding Car Hire Rotherham
Feel free to view our Facebook page for more pictures and videos of our vintage wedding car hire in Rotherham and our modern wedding car hire in
Rotherham. Our Badsworth and Bramwith are matching wedding cars if you require two wedding cars, all of our vintage wedding cars have different seating capacities, seating from 4 passengers to 7 passengers plus chauffeur. All of our vintage wedding cars have the landaulet roof system, this being a folding roof over the rear seats offering the best experience as you can travel with the roof down and the air misses you.
You could also choose to leave the roof up and only a matter of seconds the roof can be lowered for pictures on your arrival. For a modern wedding car hire our Mercedes features a glass roof with cream leather and JUST
WED registration plate.
If you are getting married at a venue, we can wait until you are married for photos of you both, toast and a drive around together. This spending time together once you are immediately married seems to get loads of emails and reviews how great the experience was and if the weather is ok, to travel with the roof down. We guarantee to beat any price like for like and offer you our customer 5-star review experience.